Good Morning and welcome to 2011 .Hope you had a good festive season and now with your new stash of crafty goodies that hopefully santa brought you.You are ready for the new year and be creative. I would like to wish all my bloggin friends a.........
VeRy HaPpY,hEaLtHy,CrEaTiVe nEw YeAr !
A new year and a new set of challenges for Creative Inspirations .This year i have some fab news are monthy sponsor is .....·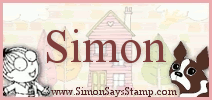 Yes the one and only
Simon Says Stamp
Simon Says Stamp
has over 100,000 items in stock. They have all of the latest releases from Magnolia, Whiff of Joy, Tim Holtz, Spellbinders, Copic and so much more! With great deals on shipping, it's a great time to shop with Simon Says Stamp. The prize is $10 voucher and Free shipping .I would like to thank Steph and co for their kind Generosity.
This week i ve choosen the challenge and thought well with all those lovel;y crafty items youve got off santa or in the crafty sales this would be the ideal challenge.
To use Something New on your project/New Element
So thats just what i have done used my new design Papers from Kaisercraft just love emm .I was so lucky to get 3 6x6 pads i hadnt got so over the coming months im sure you will see them.The image is from Stitcy bear stamps digi image is so cute.Coloured with copics and sakura black glaze pen .Flowers are from Prima ,brad from stash.Top Note die from Stampin up and so is cardstock and sentiment from stampin up.
I do hope you like my Dt card and hope to see you jpoining in the challenge .If your like me you maynot have had time over festive period to craft.Have to say so glad i now can and my mojo has joined me too!Which whihc is ablessing as usualy goes ...AWOL whe i have a break of couple days.
So get the new stuff out you can use more than one new item no restrictions,and have some fun.
If your mojo had gone Awol well go talke alook at the DT Memebers cards and if click on the name over at
Creative Inspirations
will take you to there blogs.
Well take care have fab day and get creating!
love n hugs for 2011.
Oh just one more think dont forget if youve not entered my
Birthday Candy
you only have few days left so go to top post on my
blog HERE.

You just gotta be in it to win It!