Good Morning Sunday yet another spring like day here,washing on the line.Oh theres nothing like the smell of washing dried outside!I have some funny fetisihes i know.
Anyways today is Challenge 55 over at
Creative Inspirations
.This weeks challenge has been set by the lovely Emma.and it is to create an
EASEL Card.
We have 2 lovely sponsors this week andboth offering vouchers to one lukcy winner to spend in their shop .....
$10 at Simon SaysStamp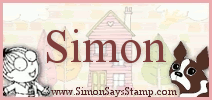 So why not get creative and join in.Ive made my creation using Stampin Up card and designer Papers by paper cellar.the image is a Digi Image from Stitchy Bear Stamps that i won on their birthday bash and just love it!Coloured with copics.
The sentiment is Stampin Up,flowers Prima,Pearls kaisercraft.The lace was from a rak i received.
I am entering this card into the following challenges:
Totally Gorgeous:Pearls & Lace
Charismas Cardz :Easel Card
Crafty Purple Frog ; Things with Wings
Close up of the image.Hope you like my creationa nd pop by
and enter the challenge



*********************************************


My second post today is for the Craft Barn Challenge
My wish had been cgranted this week thanks so much for choosing
my wish!



This is my creation ive made a tag used the new Tim Holtz colour wash distress inks to ink my tag in Wlanut stain .I then added Rangers alcohol ink mixatives gold and heated to dry it.This piccy ive had for sometime and just loveee it so romantic.The pearls are from Prima



The ribbons and lace i bought when i was home in a wee fab shop calls Boyes.
I have stuck all 3 to the bottom of the tag,so the ribbon embellished with beads hangs below.
The wee gold rose was a charm id had for awhile and the Tag Dream was sent too me in an RAK swap



Now i hear you say my wish was to make Concentina flower/Rossette flowers for people who hadnt got die cut machines (even though i have....lol)Now have to say what a fab challenge ive come to conclusion got too bigger fingers..lol.
Anyway if you check out the Craft Barn Blog you will see the many ways the dt made these flowers .So muggins here had fab idea to use a Friskas Edges ruler to get the effect and scored the strip papers and on 4th time this is what i completed the Rossetta Concentina Flower.
Boy do i need practise.....Then for the middle i stuck a Tim Holtz ideo-logy charm to the middle


Close up of the couple

Here's the Home Made flower close up!

Have fab Sunday i do hope ive done this flower and the dt team at the Craft Barn justice!
Also i would like to enter it into this wonderful blog i happen to come by is:
Sugar Creek Hollow ..cute name the theme this week is Handmade Flower.
Sunday Stampers:Brown
hugs Judex